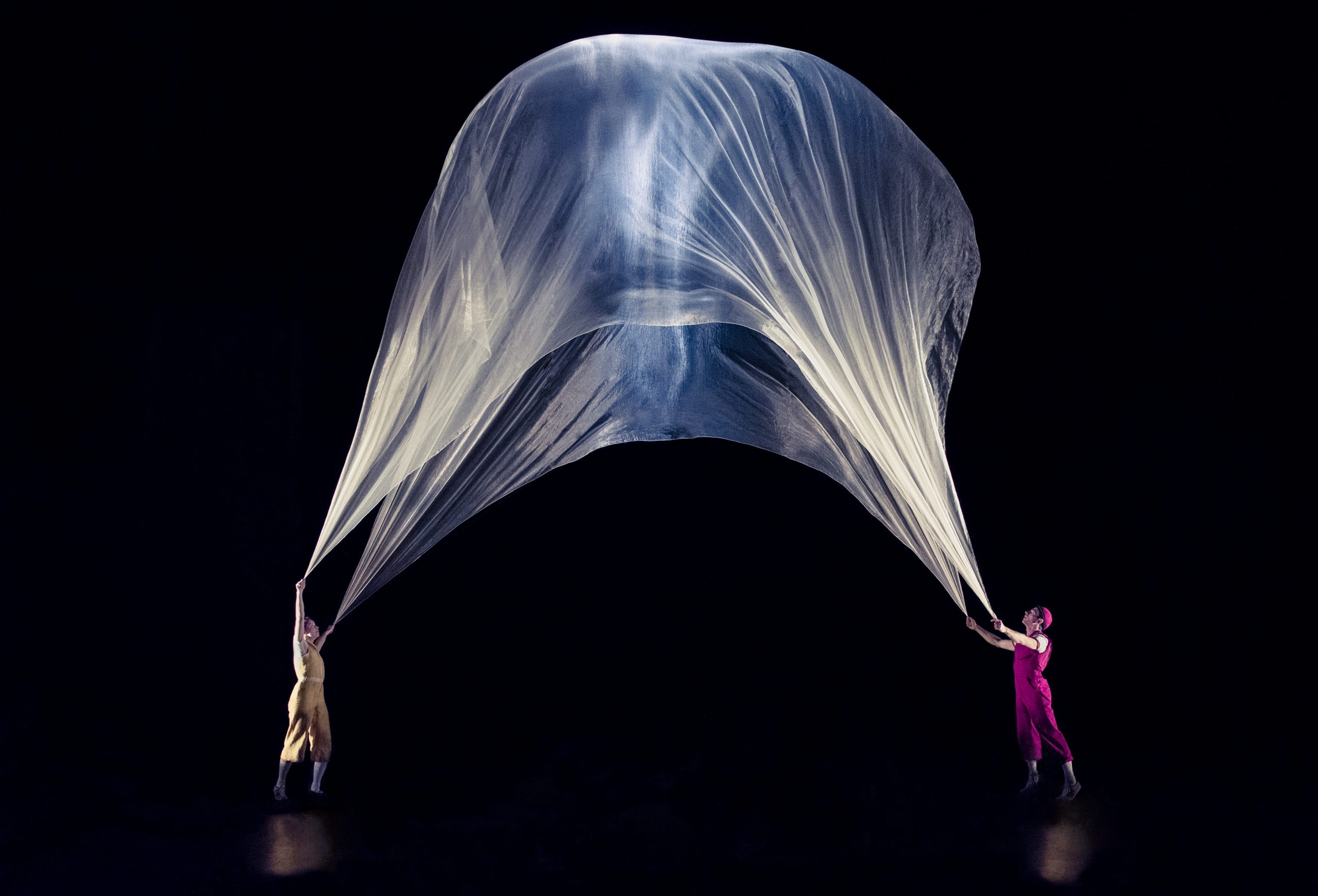 Circus and science collide in a gorgeous homage to the power of air. Flying umbrellas, larger-than-life balloons, giant kites floating over the audience and a huge snow globe will make audience members gasp in wonder and laugh until it hurts. Acrobuffos' Air Play returns to the Weis Center on Friday, October 1 at 7:30 p.m. in the Weis Center Auditorium. Masks are required.
The performance is 55 minutes in length with no intermission and is ideal for ages 4-104.
The performance was conceived and created by Seth Bloom and Christina Gelsone with air sculptures in collaboration with Daniel Wurtzel. Directed by West Hyler.
Please note that fog and strobe lighting are used during the show. Latex balloons are used onstage and in the audience. Performers enter the audience several times during the show and performers bring audience members on stage.

Air Play is a visual poem using no words. It lives on the edge of definition: part comedy, part sculpture, part circus, part theater.
The New York Times says that Seth and Christina are, "Making magic out of thin air."

To audiences around the world the wonder and discovery of Air Play are bold reminders of childhood and growing up. With visual images seemingly sewn from the sky, Air Play's poetic ode to friendship brings to life the very air we breathe.

The performance is sponsored, in part, by Gary and Sandy Sojka and the Mid Atlantic Tours program of Mid Atlantic Arts Foundation with support from the National Endowment for the Arts.
Acrobuffos is made up of Seth Bloom and Christina Gelsone, who are the creators, writers, and performers of Air Play. Seth and Christina met at a circus in Afghanistan, became engaged while street performing in Scotland, married in China, and occasionally go home to New York City. Specializing in non-verbal physical theater and comedy, Seth and Christina have created seven shows together, competed in international circus festivals, performed in over 28 countries, headlined at the Big Apple Circus, and were even featured on a postage stamp. More info about their work can be found at acrobuffos.com.
Sydney Morning Herald says, "Fun for all ages is a common puff in the arts, but with Air Play it's strictly true. From the minute the curtain goes up on this buoyant fusion of wordless clowning and aerial spectacle, you feel as if you've stepped into an enchanted world somewhere between childhood and what comes afterwards, where normal rules (gravity included) have been temporarily held at bay… A joy from start to finish, Air Play will entrance children, and will act as a great reset button for stressed adults."
Hartford Courant says, "You feel you're witnessing divine natural occurrences rather than carefully devised circus stunts."
TICKETS
Tickets are $20 for adults, $16 for seniors 62+, $10 for youth 18 and under, $10 for Bucknell employees and retirees (limit 2), $10 for Bucknell students (limit 2) and $10 for Non-Bucknell students (limit 2).
Tickets can be reserved in advance by calling 570-577-1000 or online at Bucknell.edu/BoxOffice. Seating for the fall 2021 season is socially distanced and general admission; specific seats cannot be reserved in advance.

Tickets are also available in person from several locations including the Weis Center lobby (weekdays 10 a.m. to 4 p.m.) and the CAP Center Box Office, located on the ground floor of the Elaine Langone Center (weekdays 10 a.m. to 4 p.m.).

While on campus, patrons must abide by all Bucknell University health and safety guidelines, including maintaining social distancing and wearing appropriate face coverings. All visitors are required to wear a face covering when indoors. We reserve the right to request that any visitors who do not follow University protocols leave the premises.

These protocols may be subject to change at any time. Please continue to visit our website for the most up-to-date information at Bucknell.edu/WeisCenter.

For more information about the Weis Center for the Performing Arts, go to Bucknell.edu/WeisCenter or search for the Weis Center on Instagram, Facebook, Twitter or YouTube.