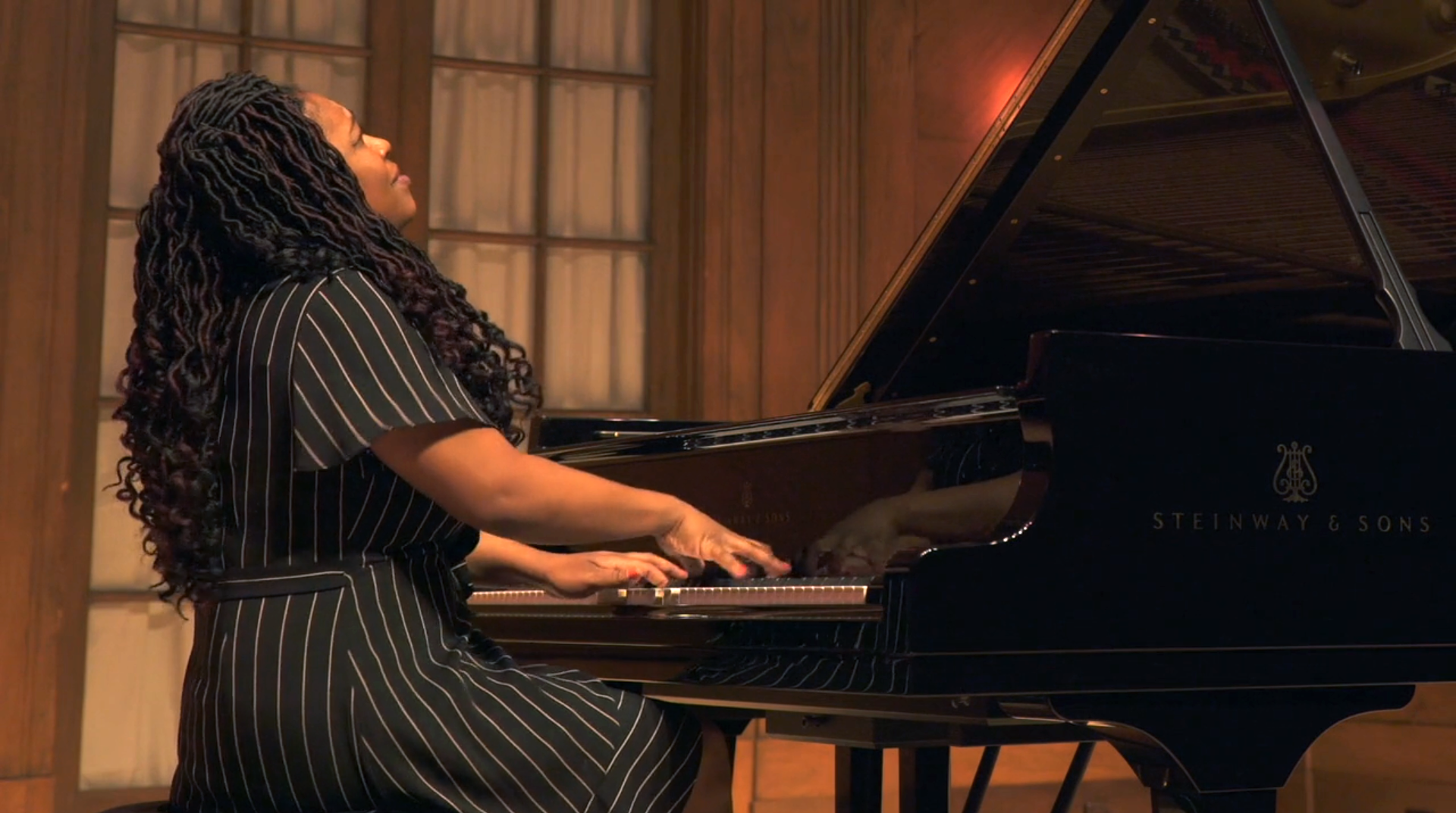 Pianist Michelle Cann will perform works by Chopin, Florence Price, Brahms and Bonds on Sunday, November 7 at 4 p.m. in the Weis Center Auditorium. Masks are required.
Pianist Michelle Cann made her orchestral debut at 14 and has since performed as a soloist with numerous ensembles including The Philadelphia Orchestra, the Florida Orchestra, the North Carolina Symphony and the New Jersey Symphony Orchestra.
A champion of the music of Florence Price, Cann performed the New York City premiere of the composer's Concerto in One Movement with The Dream Unfinished Orchestra in July 2016 and the Philadelphia premiere with The Philadelphia Orchestra in February 2021, which the Philadelphia Inquirer called "exquisite." She has also performed Price's works for solo piano and chamber ensemble with the Cincinnati Symphony Orchestra, the Chamber Music Society of Detroit and the New World Symphony, among others.
Cann regularly appears in solo and chamber recitals throughout the U.S., China, and South Korea. Notable venues include the National Centre for the Performing Arts (Beijing), the John F. Kennedy Center for the Performing Arts, Walt Disney Concert Hall (Los Angeles), and the Barbican (London).
Cann has appeared as co-host and collaborative pianist with NPR's From The Top and has been featured on WRTI-FM and WHYY-TV in Philadelphia. Her summer festival appearances have included the Taos Chamber Music Festival, Yellow Barn, Perlman Music Program, Music Academy of the West, Geneva Music Festival and Pianofest in the Hamptons, N.Y., where she serves as an artist in residence.
An award winner at top international competitions, in 2019 she served as the Cincinnati Symphony Orchestra's Multicultural Awareness Council Music Innovator in recognition of her role as an African American classical musician who embodies artistry, innovation and commitment to education and community engagement.
Cann studied at the Cleveland Institute of Music and the Curtis Institute of Music, Philadelphia, where she holds the inaugural Eleanor Sokoloff Chair in Piano Studies.
While at the Weis Center, Michelle will perform Chopin: Ballade No. 3 in A-flat major, Op. 47 • Florence Price: Sonata in E minor • Brahms: Ballade in D major, Op. 10, No. 2 • Clara Schumann: Four Pièces Fugitives • Florence Price: Fantasie Nègre No. 1 in E minor • Margaret Bonds: Troubled Water.
TICKETS
Tickets are $25 for adults, $20 for seniors 62+, $15 for youth 18 and under, $15 for Bucknell employees and retirees (limit 2), FREE for Bucknell students (limit 2) and $15 for Non-Bucknell students (limit 2).
Tickets can be reserved in advance by calling 570-577-1000 or online at Bucknell.edu/BoxOffice.
Seating for the fall 2021 season is socially distanced and general admission; specific seats cannot be reserved.

Tickets are also available in person from several locations including the Weis Center lobby (weekdays 10 a.m. to 4 p.m.) and the CAP Center Box Office, located on the ground floor of the Elaine Langone Center (weekdays 10 a.m. to 4 p.m.).

While on campus, patrons must abide by all Bucknell University health and safety guidelines, including maintaining social distancing and wearing appropriate face coverings. All visitors are required to wear a face covering when indoors. We reserve the right to request that any visitors who do not follow University protocols leave the premises.

These protocols may be subject to change at any time. Please continue to visit our website for the most up-to-date information at Bucknell.edu/WeisCenter.

For more information about the Weis Center for the Performing Arts, go to Bucknell.edu/WeisCenter or search for the Weis Center on Instagram, Facebook, Twitter or YouTube.