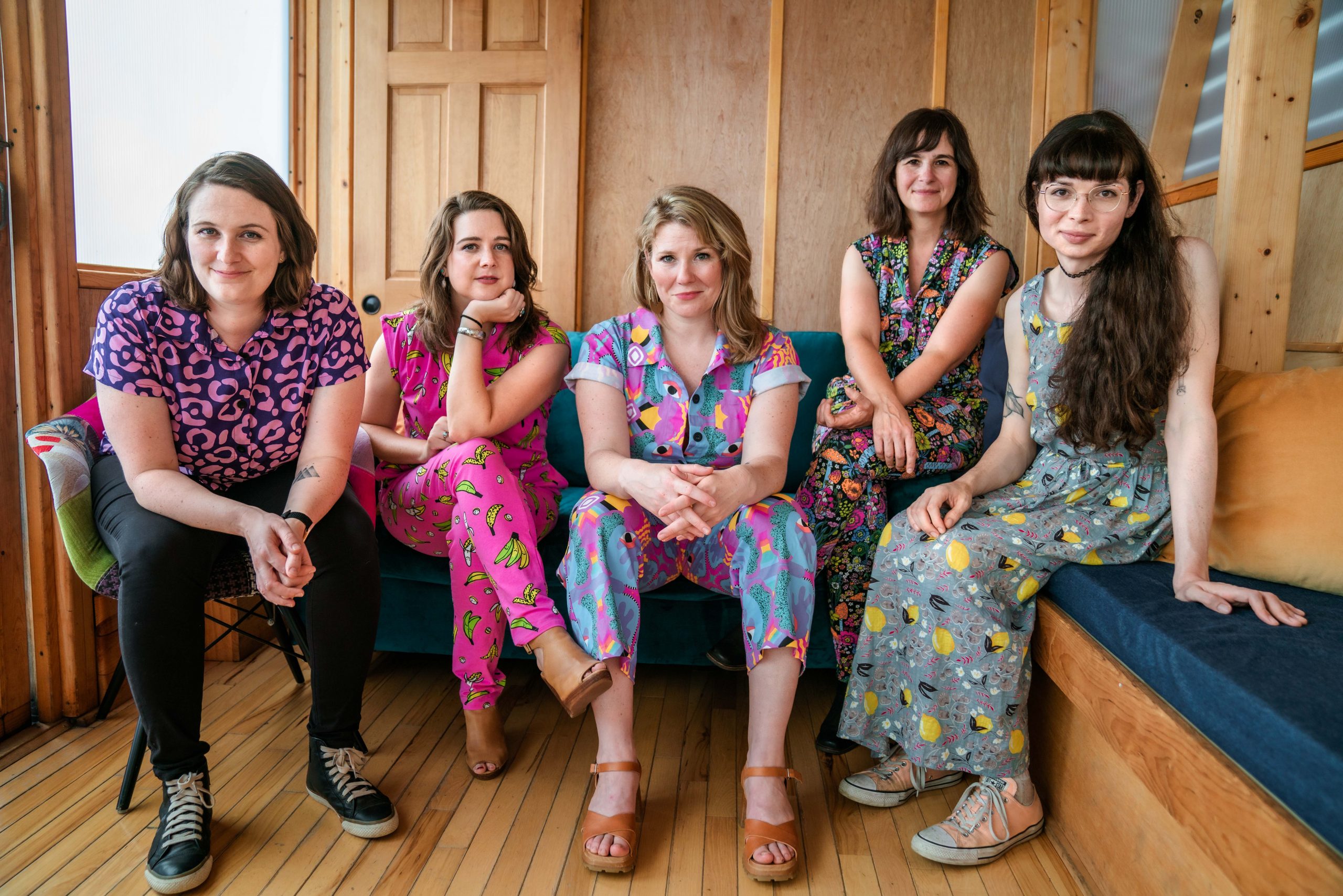 This spring, the Weis Center will host seventeen diverse performances including music from Venezuela, West Africa, Mexico, and Colombia, plus classical music, Americana and roots music, modern dance, jazz, and family-friendly performances. Four performances are free. Masks are required at all performances.
Tickets for spring 2022 performances will go on sale on Monday, Jan. 10, 2022, at 10 a.m. by calling 570-577-1000, online at Bucknell.edu/BoxOffice or in-person weekdays 10 a.m.-4 p.m. at the Campus Box Office's location in the Weis Center Atrium.
The Weis Center will kick off the spring season with American roots ensemble American Patchwork Quartet on Sunday, Jan. 23. American Patchwork Quartet draws on a repertoire of centuries-old American folk songs that highlight the country's immigrant roots. Later that same week, the Weis Center will host cellist Jamal Aliyev and pianist Dominic Cheli on Thursday, January 27.
Then, The Crossing teams up with Dublin Guitar Quartet on Friday, Feb. 4 to perform Nico Muhly's How Little You Are, which has been described by the composer as "an extended meditation on the words of pioneer women of the 19th century."
Nashville-based string band Della Mae (pictured) performs on Tuesday, Feb. 8. They have established a reputation as a charismatic live act comprised of some of the finest players in bluegrass, Americana and beyond. 
Australia-based Circa Contemporary Circus returns to the Weis Center on Tuesday, Feb. 15 to perform their work, Sacre, which is the first circus setting of Stravinsky's Rite of Spring. The performance is suggested for ages 12+ due to theatricality and focus required. Circa continues to push the boundaries of the contemporary circus art form, blurring the lines between movement, dance, theater and circus.
Then, the Polish Philharmonic Orchestra will take the stage on Thursday, Feb. 17, featuring accomplished violin and piano soloists. They will perform works by Brahms, Chopin and Beethoven.
World music and jazz combine when Venezuelan-born Nella performs on Thursday, Feb. 24. In 2019, Nella won a Latin Grammy Award for Best New Artist.
Jazz and classical ensemble, Reverso, performs for free in the Weis Center Atrium on Tuesday, March 1. The ensemble features trombone, piano and cello.
Then, back by popular demand: the Peking Acrobats will bring their daring maneuvers and technical prowess to the stage on Sunday, March 6. This all-ages performance will feature trick-cycling, precision tumbling, juggling, somersaulting and gymnastics. The Peking Acrobats push the limits of human ability, defying gravity with amazing displays of contortion, flexibility and control.
Thanks to a partnership with Bucknell's Griot Institute for the Study of Black Lives & Cultures, the Music Department's Gallery Series, and Jazz at Bucknell, world music from Gambia will be highlighted when Sona Jobarteh performs for free on Tuesday, March 22. In addition to her singing and kora playing, Sona is active in social change; she singlehandedly set up The Gambia Academy, a pioneering institution dedicated to achieving educational reform across the continent of Africa.
Later that week accordionist Hanzhi Wang will perform on Friday, March 25. Praised for her captivating stage presence and performances that are technically and musically masterful, Wang is the only accordionist to ever win a place on the roster of Young Concert Artists in its 59-year history.
The Weis Center returns to the Campus Theatre in downtown Lewisburg on Wednesday, March 30 for Jake Blount's folk performance. Jake is an award-winning banjo player, fiddler, singer and ethnomusicologist. He is a 2020 recipient of the Steve Martin Banjo Prize. Jake specializes in the music of Black communities in the southeastern United States.
Mexican folk singer Sonia De Los Santos returns to the Weis Center on Saturday, April 2 for an all-ages performance. Sonia was nominated for a 2019 Latin Grammy with her second family-music album and has been hailed by Billboard as "one of the Latin children's music artists you should know."
Pianist Qing Jiang takes the stage on Sunday, April 3 as she performs works from a solo album recorded in the fall of 2021. All of the works evoke images of landscapes or dream states.
Then, contemporary dance returns to the stage when Ronald K. Brown and his dance company EVIDENCE perform on Friday, April 8. EVIDENCE focuses on the seamless integration of traditional African dance with contemporary choreography and spoken word. They will present two works at the Weis Center: Grace and Mercy.
Finally, on Sunday, April 10 the Weis Center will welcome back the fun and zany George Hinchliffe's Ukulele Orchestra of Great Britain for an all-ages performance! In Europe and America, the orchestra is best known for playing versions of famous rock songs and film themes, sometimes changing these so that the expectations of the audience are subverted. The performance will have audience members smiling and singing right along.
The Weis Center ends the spring season with a vibrant and uplifting outdoor concert on the Weis Center Plaza by Colombian world music band Chontadelia on Thursday, April 21. The band is touring as part of Center Stage, a public diplomacy initiative of the U.S. Department of State.
Season Brochure
The season brochure is available as an eco-friendly, downloadable and printable PDF and online flipbook at Bucknell.edu/WeisCenter.
A limited number of hardcopies are available upon request. To request a hardcopy brochure, contact Lisa Leighton, marketing and outreach director, at 570-577-3727 or e-mail Lisa.Leighton@bucknell.edu and one will be mailed at no cost.
Tickets
Please note that usual ticket subscriptions and seating selections have been temporarily changed for the 2021–22 Season.
Subscriptions will not be available during the 2021–22 season.
Tickets for spring 2022 performances will go on sale on Monday, Jan. 10, 2022, at 10 a.m.
Seating is socially distanced and general admission, and will comply with current guidelines. Specific seats cannot be selected when purchasing tickets, and patrons should plan to arrive early to ensure ample time to select an available seat. Auditorium doors open 30 minutes prior to show time.
Capacity limits will be adjusted for each performance at the venue's discretion and based on current health and safety guidelines.
Campus Box Office Information
Weis Center Atrium
Monday–Friday, 10 a.m.–4 p.m.
Elaine Langone Center, Campus Activities & Programs Center
Monday–Friday, 10 a.m.–4 p.m.

The Campus Box Office opens one hour prior to performances at the performance location.
570-577-1000 or Bucknell.edu/BoxOffice
PLEASE NOTE

While on campus, patrons must abide by all Bucknell University health and safety guidelines, including maintaining social distancing and wearing appropriate face coverings, if still being implemented.

These protocols may be subject to change at any time. Please continue to visit our website for the most up-to-date information at Bucknell.edu/WeisCenter.
For more information about performances at the Weis Center for the Performing Arts, go to Bucknell.edu/WeisCenter or search for the Weis Center on Instagram, Facebook, Twitter or YouTube.