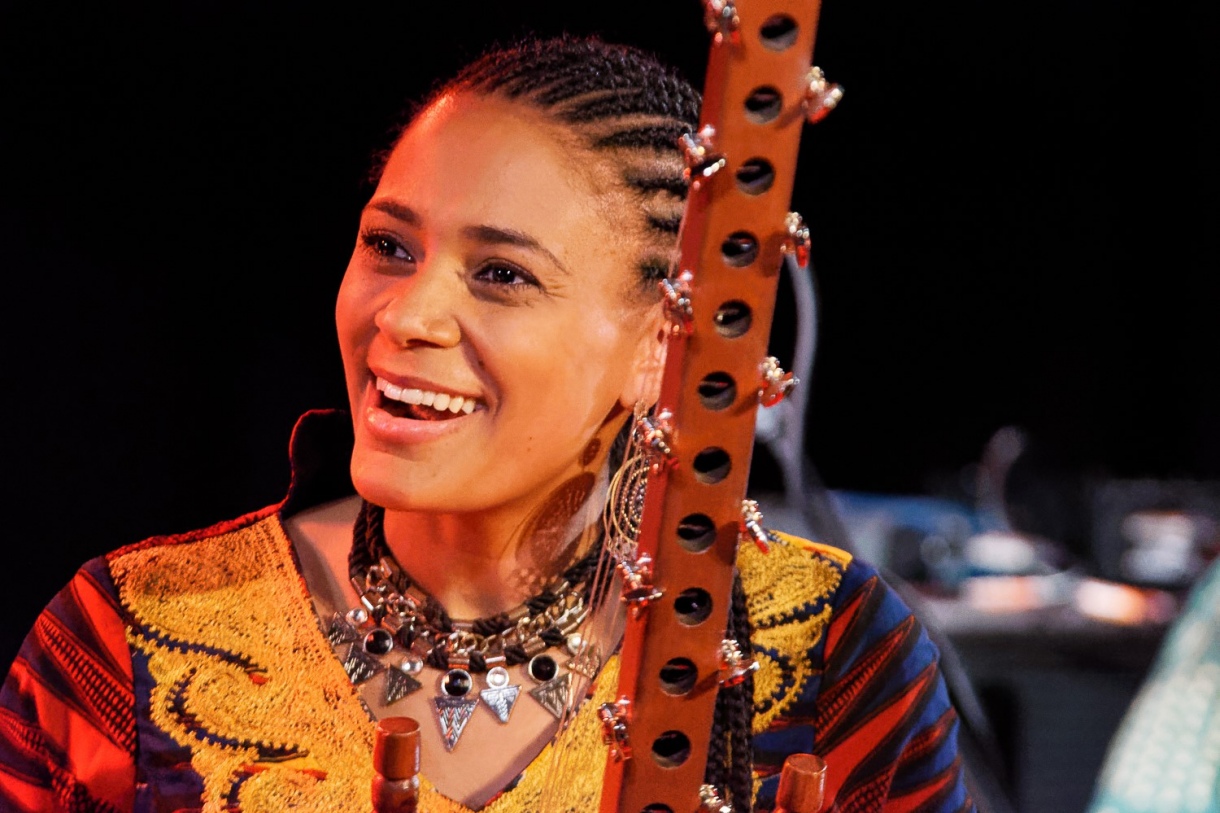 Sona Jobarteh, the first and only female kora player educating the next generation about their West African traditions, will perform on Tuesday, March 22 at 7:30 p.m. at the Weis Center for the Performing Arts. The performance is free and tickets are not required.
Masks are required.
The performance is sponsored, in part, by Jazz at Bucknell, the Griot Institute for the Study of Black Lives & Cultures at Bucknell University and the Bucknell University Music Department Gallery Series – spotlighting new and world music.
Sona Jobarteh preserves her musical past while innovating to support a more humanitarian future. The spirit of her musical work stands on the mighty shoulders of the West African Griot tradition; she is a living archive of the Gambian people. With one ear on the family's historic reputation, one on the all-important future legacy and her heart in both places, she is preparing a place today for the next generation.
Her singing and kora playing while fronting her band spring directly from this tradition. The extent of her recognition is evidenced by more than 17 million watchers on YouTube and considerable numbers on other digital platforms. All this despite singing in her native languages and keeping to her own path within the music industry.
Jobarteh's dedication to spreading powerful humanitarian messages through her songs and her stage performances makes her much more than a musician; she is active in social change and leads by her own example. She singlehandedly set up The Gambia Academy, a pioneering institution dedicated to achieving educational reform across the continent of Africa. This academy is the first of its kind to deliver a mainstream academic curriculum at a high level, while also bringing front and center the culture, traditions and history that belong to its students into their everyday education.
These efforts have led to invitations for Jobarteh to deliver speeches at high-profile events around the world, including summits for the U.N., the World Trade Organization and UNICEF.
While on campus, patrons must abide by all Bucknell University health and safety guidelines, including maintaining social distancing and wearing appropriate face coverings. All visitors are required to wear a face covering when indoors. We reserve the right to request that any visitors who do not follow University protocols leave the premises.

These protocols may be subject to change at any time. Please continue to visit our website for the most up-to-date information at Bucknell.edu/WeisCenter.

For more information about the Weis Center for the Performing Arts, go to Bucknell.edu/WeisCenter or search for the Weis Center on Instagram, Facebook, Twitter or YouTube.