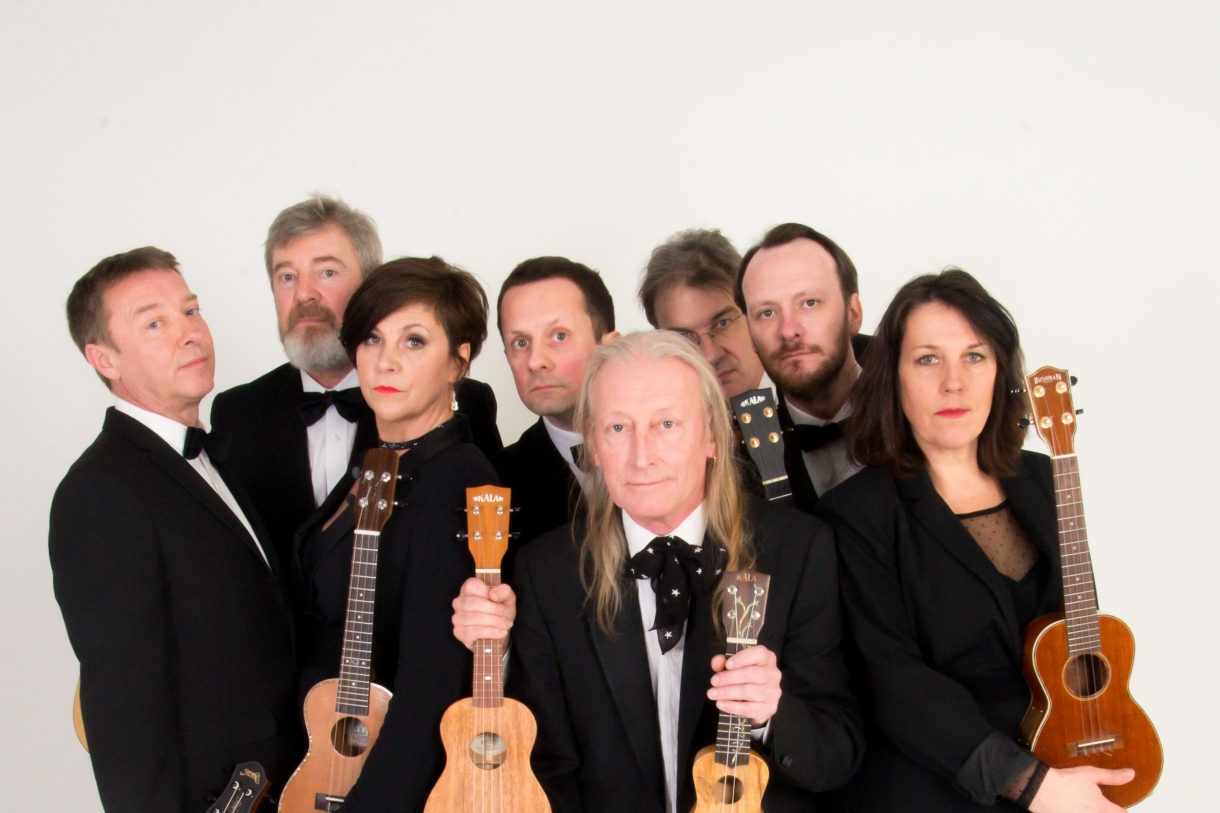 George Hinchliffe's Ukulele Orchestra of Great Britain will perform on Sunday, April 10 at 4 p.m. at the Weis Center for the Performing Arts.
The family-friendly performance is suggested for ages 4 and above.
Come early!
There will be free pre-performance kids activities sponsored by the Lewisburg Children's Museum from 3-4 p.m. in the Weis Center Atrium.
There will also be free pre-performance music by the Iron Ukulele Benders from 3:15-3:45 p.m. in the Weis Center Atrium.
The performance is sponsored, in part, by the Centre Daily Times, Asbury Riverwoods, and Teri MacBride and Steve Guattery.
The Ukulele Orchestra of Great Britain, founded by George Hinchliffe and Kitty Lux, has toured in the United States many times. For those who have not yet encountered it, the essential point is that it is an original musical ensemble featuring only ukuleles of various sizes and registers, accompanied by the voices of the performers.
Harsher critics have stated that the Ukulele Orchestra formed their repertoire based on any music considered inappropriate for the instrument, with a "shopping trolley dash through genres" and musical history. In Europe and America, the orchestra is best known for playing versions of famous rock songs and film themes, sometimes changing these so that the expectations of the audience are subverted. Sometimes a rock song will be changed into a jazz idiom, or sometimes several songs that are known from different genres are combined in one "soup of contrasts."
The group's founding mission was to have fun and "not to lose money." Incredibly, over 30 years, the group has succeeded in both not losing money and incidentally making millions of dollars. It has been seen worldwide including by members of the British royal family and other crowned heads of Europe, at the Houses of Parliament in London and by millions of television and online viewers.
When The Ukulele Orchestra of Great Britain began in 1985, the public opinion was that an orchestra consisting entirely of ukuleles in different sizes was a strange concept. This was something that attracted the founders. At that time, the orchestra members had experience with many types of music, and yet had become tired of the conventions of the music business as well as the conventions of performance and genre stereotyping that were prevalent. The idea was to make something fresh and entertaining, both modern and old-fashioned, in a style that deviated from current performance fashions. People liked the result.
Today, the orchestra finds that wherever it goes, people are playing ukuleles, often in groups. Many of these enthusiasts tell the members of the ensemble that they were inspired to play the instrument after seeing and hearing the original Ukulele Orchestra. Now, there are many ukulele orchestras, some acknowledge the pioneering work of The Ukulele Orchestra of Great Britain, others claiming ignorance of this rich history, but none of them existing before the original Ukulele Orchestra.
Tickets
Tickets are $30 for adults, $24 for seniors 62+, $20 for youth 18 and under, $20 for Bucknell employees, $10 for Bucknell students and $20 for non-Bucknell students.
Tickets can be reserved in advance by calling 570-577-1000 or online at Bucknell.edu/BoxOffice.
Seating for the spring 2022 season is socially distanced and general admission; specific seats cannot be reserved.
Following CDC and state guideline changes for indoor gatherings, Bucknell University lifted its masking mandate on Saturday, March 26. Masks are no longer required in the Weis Center, but are always welcome.

Tickets are also available in person from several locations including the Weis Center lobby (weekdays 10 a.m. to 4 p.m.) and the CAP Center Box Office, located on the ground floor of the Elaine Langone Center (weekdays 10 a.m. to 4 p.m.).

For more information about the Weis Center for the Performing Arts, go to Bucknell.edu/WeisCenter or search for the Weis Center on Instagram, Facebook, Twitter or YouTube.