The Weis Center's 2022-23 line-up includes a diverse schedule of 24 live performances that include world music, classical music, Americana and roots music, modern dance and world dance, jazz and family friendly performances. All performances take place at 7:30 p.m. unless otherwise noted.
Tickets for 22-23 season performances will go on sale to the public beginning Thursday, Aug. 25 at 10 a.m. by calling 570-577-1000, online at Bucknell.edu/BoxOffice or in-person weekdays 10 a.m.-4 p.m. at the Campus Box Office's location in the Weis Center Atrium.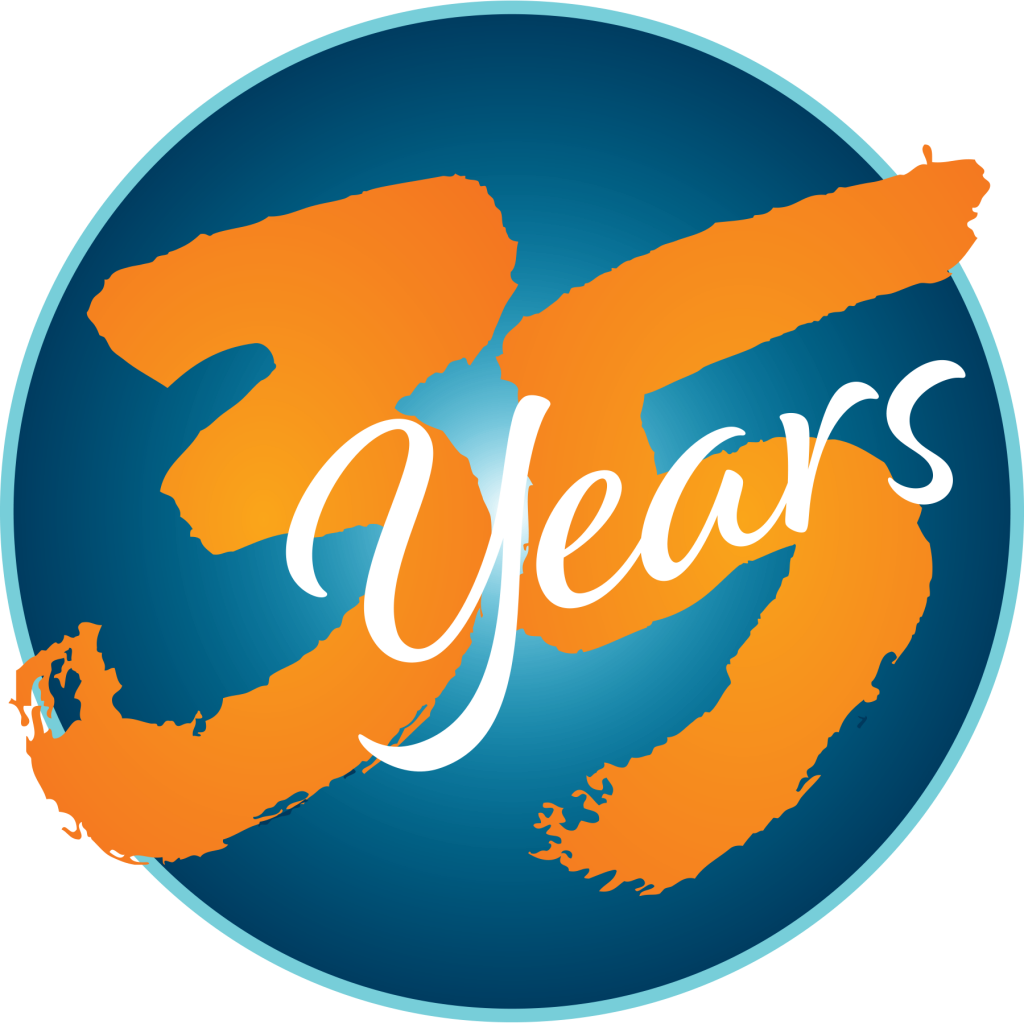 Fall 2022
The 35th Anniversary season will kick off on Friday, August 26 at 6 p.m. with a free concert by global fusion/brass band Red Baraat outside on the Weis Center Plaza. Patrons are welcome to bring lawn chairs and blankets. Conceived by dhol player Sunny Jain, the group has drawn worldwide praise for its singular sound, a merging of hard driving North Indian bhangra with elements of hip-hop, jazz and raw punk energy. National Public Radio called them, "The best party band in years."
Then, Lewisburg native Taylor Fleming presents jazz music in the Atrium with his quartet on Wednesday, September 7. Taylor Fleming Quartet's love for the traditional and the contemporary fuels creative arrangements of familiar tunes from Miles Davis to Pink Floyd. Join us for this free jazz performance.
In mid-September the Weis Center will welcome the acclaimed contemporary dance ensemble, Paul Taylor Dance Company during Bucknell's Family Weekend on Friday, September 16. Paul Taylor became a cultural icon, one of America's most celebrated artists and a part of the pantheon that created American modern dance. Leading the company that bears his name until his death in 2018, Taylor molded it into one of the preeminent performing ensembles in the world.
On Wednesday, September 21 Fémina performs at the Campus Theatre in downtown Lewisburg; they are on tour as part of Center Stage, a public diplomacy initiative of the U.S. Department of State. The harmony-soaked vocals and electro-folk charisma of the Trucco sisters propels a new project by this acclaimed female-powered band and carries messages of equality and empowerment. Lyrically poignant with hip-hop and Latin folk influences, Fémina is Argentine soul music with a purpose.
On Tuesday, September 27, the young Danish trio Dreamers' Circus takes the stage. Contemporary and endlessly innovative in their approach, they draw inspiration from the deep traditions of folk music in the region and reshape them into something bright, shiny and new. The ensemble has won five prestigious Danish Music Awards.
On Thursday, September 29, Toronto's original guerilla-folk, party-punk band, Lemon Bucket Orkestra performs. The multi-award-winning ensemble has been heralded as a groundbreaking, genre-bending phenomenon. Equal parts exhilarating precision and reckless abandon, the Orkestra's live shows are a truly immersive experience — ranging from the ecstatic to the cathartic and all points in between.
Music from Scotland comes to the stage when Julie Fowlis performs Gaelic music on Thursday, October 6. With a career spanning five studio albums, her intoxicating vocals have enchanted audiences around the world. She will forever be recognized for singing the theme songs to Disney Pixar's Brave.
The Scottish Chamber Orchestra, featuring violinist Nicola Benedetti, performs on Friday, October 14. The internationally celebrated Scottish Chamber Orchestra is one of Scotland's National Performing Companies. They will perform works by Anna Clyne, Max Bruch and Felix Mendelssohn.
The TL Collective, founded by Micaela Taylor, will perform on Saturday, October 22. Trailblazing in the city of Los Angeles, Micaela is the recipient of the inaugural Springboard EMERGE Choreographic Award and was named one of Dance Magazine's 25 to Watch 2019 and was on its May 2020 cover. The Los Angeles-based dance company is known for its fusion of contemporary dance and theatrical hip-hop, including elements of groove and acrobatics accompanied by high-level athleticism.
Cuban Jazz duo of pianist Alfredo Rodriguez and percussionist Pedrito Martinez takes the stage on Thursday, October 27. Their first duo collaboration, Duologue,finds the pair exploring a range of moods and influences, from Cuban classics to collaborative original compositions, and several unexpected favorites.
Folk duo The Small Glories perform on Wednesday, November 9 at the Campus Theatre in downtown Lewisburg. The material of a Small Glories concert includes songs of love, loss, and environment, delivered with soaring, interwoven vocals on various combinations of stomping clawhammer banjo, guitar and harmonica.
Then, classical ensemble Merz Trio performs on Thursday, November 17. The Merz Trio will bring together a series of diversely lyrical and stunningly rich works in a program called "After Vienna". Merz Trio will perform works by Alma Mahler and Alban Berg, Daniel Temkin, Dmitri Shostakovich and Franz Schubert.
The fall season ends with 3-time Grammy-winning South African ensemble Soweto Gospel Choir on Thursday, December 1. They will present a new performance – HOPE: It's Been a Long Time Coming.The concert will commemorate and remember South Africa's Freedom Movement and the Civil Rights Movement in the US, bringing joy and inspiration to all.
Fall 2022 Preview Video
Spring 2023
Step Afrika! kicks off the spring season on Friday, February 3, Step Afrika! blends percussive dance styles practiced by historically African American fraternities and sororities, traditional west and southern African dances and an array of contemporary dance and art forms into a cohesive, compelling artistic experience. Performances are much more than dance shows; they integrate songs, storytelling, humor and audience participation.
Alash will present Tuvan throat singing at the Campus Theatre in downtown Lewisburg on Wednesday, February 8. Alash are masters of Tuvan throat singing, a remarkable technique for singing multiple pitches at the same time. What distinguishes this gifted trio from earlier generations of Tuvan throat singers is the subtle infusion of modern influences into their traditional music.
On Saturday, February 18, Ephrat Asherie Dance presents their work Odeon; the dance company is rooted in African American and Latinx street and club dances. Dedicated to exploring the inherent complexities of these forms, EAD investigates the expansive narrative qualities of various social dances, including breaking, hip-hop, house and vogue, as a means to tell stories, develop innovative imagery and find new modes of expression.
On February 22, The Wicked Chicken, based in Millheim, PA, plays a mix of driving rock 'n' roll, old-time fiddle and blues. Armed with exciting new material, a powerful groove and a unique sound, the Wicked Chicken will surprise and captivate audiences of all varieties. The foundation of the band are the Tritsch brothers: Gus (guitar, vocals and fiddle) and Huck (drums, percussion and fiddle). The two have earned recognition at various festivals and competitions including the Appalachian String Band Music Festival, known as Clifftop. In 2019, Huck Tritsch won first prize in the youth fiddle competition at Clifftop, and the Wicked Chicken placed second in the neo-traditional band competition. Gus Tritsch won the prize for best original fiddle tune as well.
Danú performs traditional Irish music on Friday, March 3. Hailing from historic County Waterford, Ireland, Danú is one of the leading traditional Irish ensembles of today. For over two decades, Danú's virtuosi players on flute, tin whistle, fiddle, button accordion, bouzouki and vocals (Irish and English) have performed around the globe and recorded seven critically acclaimed albums.
Then, on Tuesday, March 7, Trick of the Light Theatre presents The Griegol, an eerie, elegant wordless tale about death, love, grief and monsters.After a girl's granny passes away, she starts to suspect she is being pursued by the smoke-demon shapeshifter from the old woman's stories. In the tradition of Spirited Away and Coraline, The Griegol is a mythic gorgeously rendered dark fantasy for brave children and lovers of atmospheric theatre. This is an inventive new work that conjures magic and laughter out silhouettes, puppetry, live music and animation.
Divinity "Divi" Roxx is a multi-hyphenated award-winning musician, recording artist and composer who is celebrated for her inspirational lyrics and infectious grooves. She will present family friendly pop/rock music on Saturday, March 11 at 1 p.m. Her career as a bass-player skyrocketed after attending a bass camp led by the legendary Victor Wooten where she was invited to tour with the five-time Grammy Award-winning virtuoso three months after attending the camp. After touring with Wooten for five years, she toured and performed with Beyoncé as her bassist and musical director. Roxx was a featured soloist and also composed original music for Beyoncé's I… Am Sasha Fierce tour and DVD.
Trinity Irish Dance Company will bring Irish dance to the stage on Friday, March 24. A fusion of Ireland's vibrant and longstanding dance-form and elements of American innovation, Trinity Irish Dance Company dazzles audiences around the globe with its hard-driving percussive power, lightning-fast agility and aerial grace. Minutes into watching the awe-inspiring precision of its dancers and musicians, TIDC expands whatever notions the audience may have about Irish dance … revealing its limitless possibilities.
Camerata RCO performs on Friday, March 31. The ensemble performs chamber music in multiple formations from duet to small chamber orchestra, with a special focus on the Classical and Romantic repertoire for winds and strings, along with active relationships with living composers. At the Weis Center, they will perform Martinů's La Revue de Cuisine (for clarinet, bassoon, trumpet, violin, cello and piano) and four pieces by Poulenc: L'Invitation Au Chateau (for clarinet, violin and piano), Sonata for Cello and Piano, Trio for Oboe, Bassoon and Piano and Le Bal Masqué (for baritone, oboe, clarinet, trumpet, violin, cello, percussion and piano).
Solo pianist Juho Pohjonen will perform on Thursday, April 13. He is regarded as one of today's most exciting and unique instrumentalists. The Finnish pianist performs widely in Europe, Asia and North America, collaborating with symphony orchestras and playing in recital and chamber settings. At the Weis Center, Pohjonen will perform: Grieg's ballade in G minor, Op. 24; Ravel's Gaspard de la Nuit and Chopin's four ballades, Op. 27, 38, 47 and 52.
The season ends with Artemis' jazz performance on Thursday, April 20. Artemis is the super group of seven of the most acclaimed musicians in modern jazz. The band features pianist and musical director Renee Rosnes, trumpeter Ingrid Jensen, alto saxophonist and flautist Alexa Tarantino, tenor saxophonist Nicole Glover, bassist Noriko Ueda and drummer Allison Miller.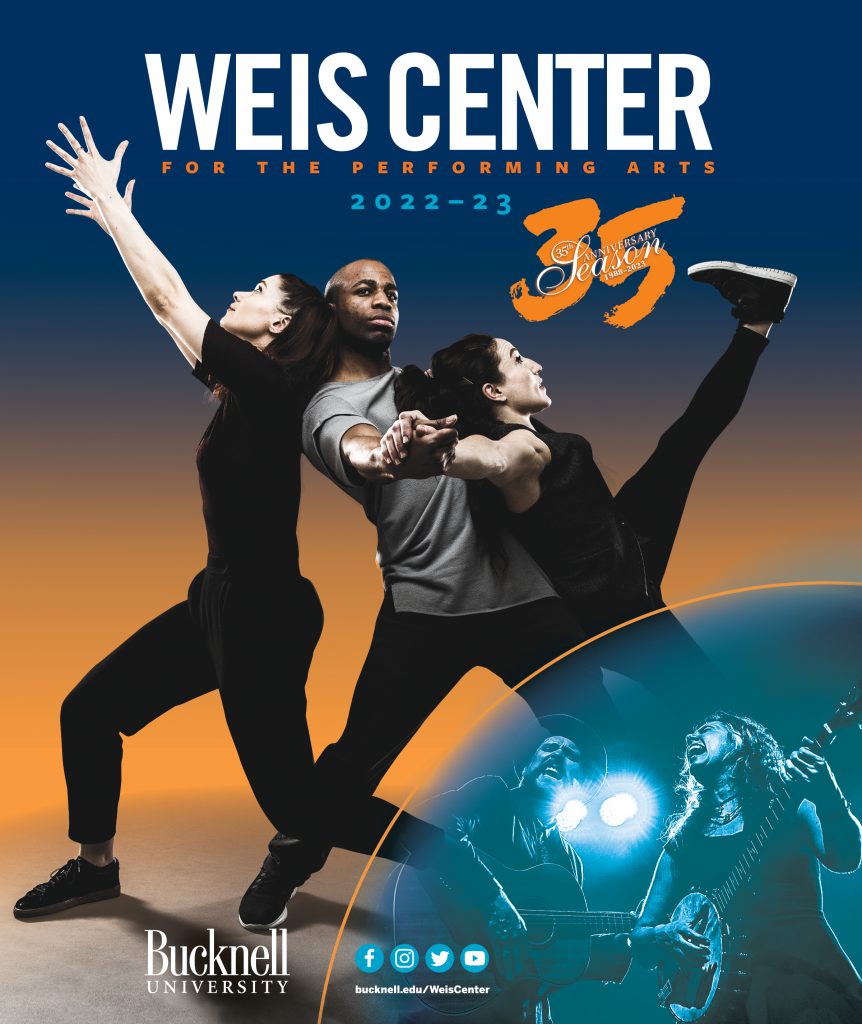 Season Brochure
The season brochure is now available as an eco-friendly, downloadable and printable PDF and online flipbook at Bucknell.edu/WeisCenter.
A limited number of hardcopies are available upon request. To request a hardcopy brochure, contact Lisa Leighton, marketing and outreach director, at 570-577-3727 or e-mail Lisa.Leighton@bucknell.edu and one will be mailed at no cost.
Hardcopies are also available at the Weis Center and will soon be available throughout the Susquehanna River Valley region.
Tickets
Tickets go on sale to the public on Thursday, August 25 at 10 am.
Weis Center Atrium
Monday–Friday, 10 a.m.–4 p.m.
Elaine Langone Center, Campus Activities & Programs Center
Monday–Friday, 10 a.m.–4 p.m.
The Campus Box Office opens one hour prior to performances at the performance location.
570-577-1000 or Bucknell.edu/BoxOffice
Sponsors
The Weis Center's 2022-23 season is supported by the following season-level sponsors: Bucknell Sports Properties, The Daily Item, Geisinger, Seven Mountains Media, Sunbury Broadcasting Corporation and WVIA.
Event sponsors include Bloomsburg Children's Museum, Centre Daily Times, Coldwell Banker Penn One Real Estate, Doug Candland, Columbia-Montour Visitors Bureau, Julianna and John Cooper, Nancy and Sam Craig, Evangelical Community Hospital, the Exchange/Art Cart, Geisinger, Jazz at Bucknell, Lewisburg Children's Museum, Clayton and David Lightman, Teri MacBride and Steve Guattery, The News Item, PPL, Press Enterprise, Asbury Riverwoods, Adriana Rojas and family in memory of Andrew, Service 1st Federal Credit Union, Gary and Sandy Sojka, Standard Journal, Stone State Entertainment, TIAA, ViaMedia, Williamsport Sun Gazette, Karl Voss and Chanin Wendling family, WNEP and WVIA.
Grant funding for the season includes Mid Atlantic Arts Foundation, National Endowment for the Arts, and the Pennsylvania Council on the Arts.
Please Note
Bucknell's face covering requirements follow CDC guidelines, based on current rates of transmission of COVID-19 in Union County. When transmission rates are high, face coverings are required of everyone in all public and academic indoor campus spaces, including the Weis Center. Masks are not required indoors when transmission rates are low or medium. This guideline applies to all visitors regardless of vaccination status. Please always have a mask available when you are on campus. KN95s are recommended. To view Bucknell's current status, visit bucknell.edu/COVID-19.
For more information about the Weis Center for the Performing Arts, go to Bucknell.edu/WeisCenter or search for the Weis Center on Instagram, Facebook, Twitter or YouTube.
Fall 2022 Artist Images