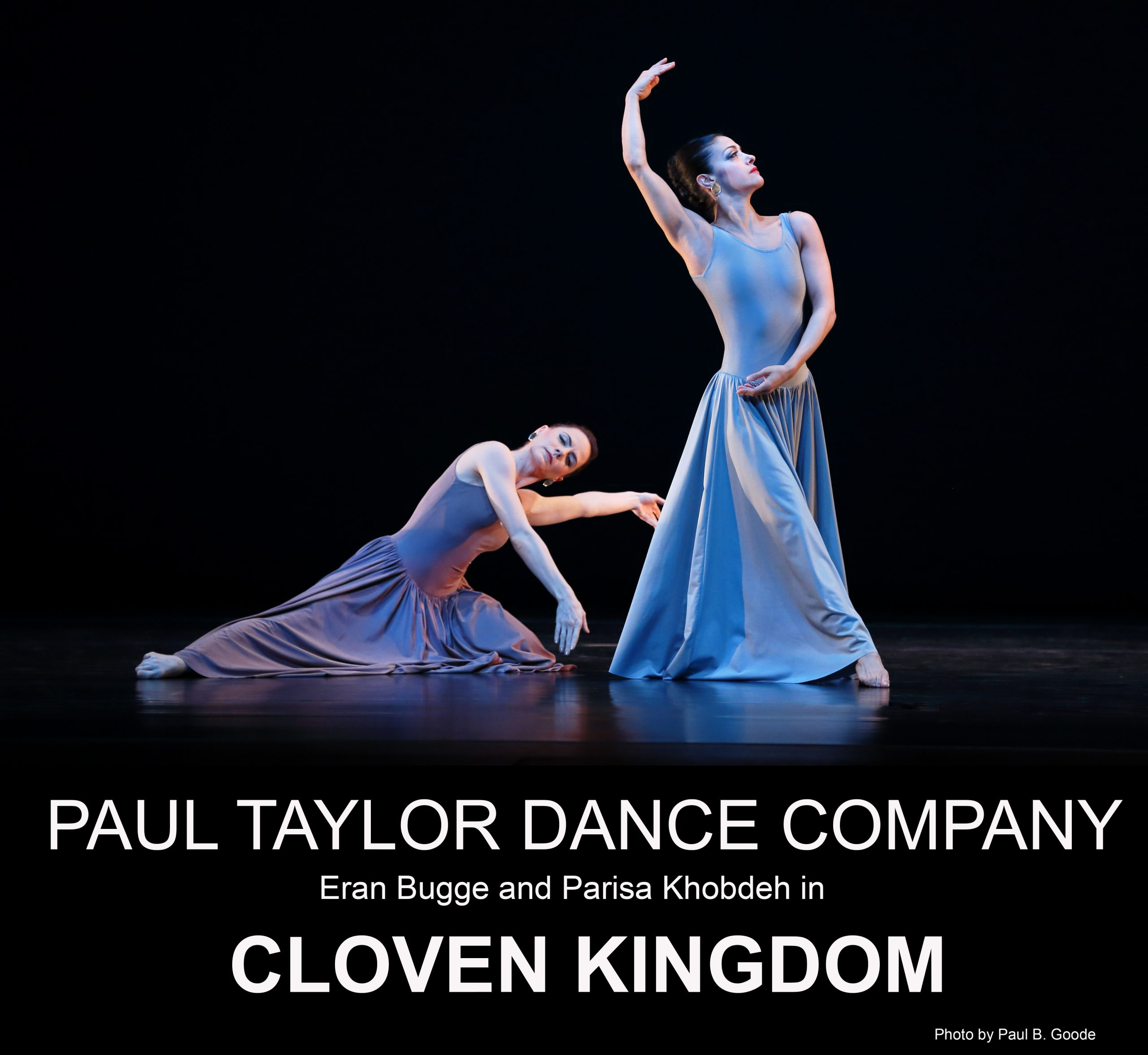 The Weis Center will welcome Paul Taylor Dance Company on Friday, September 16 at 7:30 p.m. in the Weis Center Concert Hall, as part of Bucknell University's Family Weekend festivities.
There will be a free pre-performance talk with Rehearsal Director and former Taylor dancer Cathy McCann on the same day as the performance, from 6:45-7:15 p.m. in the Weis Center Atrium. The talk will be facilitated by Bucknell University Associate Professor and Director of Dance, Kelly Knox.
The performance is sponsored, in part, by the Mid-Atlantic Arts Foundation and Douglas Candland.
At the Weis Center, they will perform Arden Court, Cloven Kingdom and Diggity. The entire performance is 1 hour and 40 minutes, with intermissions.
The genesis of the Paul Taylor Dance Company transpired on May 30, 1954, in Manhattan, when dance-maker Paul Taylor first presented his choreography with five other dancers on the Lower East Side. That performance marked the beginning of 64 years of unrivaled creativity.
In the decades that followed, Taylor became a cultural icon, one of America's most celebrated artists and a part of the pantheon that created American modern dance. Leading the company that bears his name until his death in 2018, Taylor molded it into one of the preeminent performing ensembles in the world. Under the artistic direction of Taylor dancer Michael Novak, the company continues to perform throughout the world as well as at its New York City home, the Lincoln Center for the Performing Arts – where it appears under the aegis of Paul Taylor American Modern Dance.
The company has traveled the globe many times over, bringing Taylor's unrivaled repertoire to theaters in cultural capitals, on college campuses and in rural communities. It has performed in more than 600 cities in 66 countries, representing the United States at arts festivals in more than 40 countries and touring extensively under the aegis of the U.S. Department of State.
In 1997, the company toured throughout India in celebration of that nation's 50th anniversary. While continuing to garner international acclaim, the company performs more than half of each touring season in cities throughout the United States. In celebration of its 50th anniversary and 50 years of creativity, the Paul Taylor Dance Foundation presented Taylor's works in all 50 states between March 2004 and November 2005. That tour underscored the company's historic role as one of the early touring companies of American modern dance.
The New York Times says, "One of the most exciting, innovative and delightful dance companies in the entire world."
"America's most magnificent dancing machine."

The San Francisco Examiner
ABOUT THE PERFORMANCE PIECES
Arden Court (1981) – 25 minutes
In a seminal and exuberant work, Taylor examines three kinds of relationships: Supportive, competitive, and flirtatious."One of the few great art works created in [the 20th] century… exploring a new movement field of love and relationship. The women dance into the men's arms as if Shakespeare had only written Romeo and Juliet the day before yesterday. I am convinced that this is one of the sentimental works of our time… something extraordinary in the history of dance. It bounces to a different drummer." – Clive Barnes, New York Post
Cloven Kingdom (1976) – 23 minutes
"Man is a social animal," said Spinoza. Just below the surface of humans' civilized veneer lurks an animal nature that cannot be ignored. The scene is a cotillion ball where members of high society are dressed in formal attire – the gentlemen in tailcoats and the ladies wearing gowns and mirrored headpieces. A baroque score vies for dominance with urgent, percussive 20th-Century music, reflecting the struggle between our gentler and more savage natures. As primitive impulses emerge, the women plant seeds and bear progeny, while the men seem no longer to wear tails but bear tails. They prance and stalk on all fours, and their totemic friezes suggest the prehistoric ancestors from whom we have descended. Although the dance ends on a triumphant note with social structures intact, it has become clear that we are not separate from animals, we are animals.
"A sharp comedy of manners [about] the conflicting natures within people and, more specifically, the darker side that surfaces under the veneer of gentility. Revealing their true selves, the dancers turn humorously grotesque. The writhe as well as waltz, they crawl as well as glide. There's so much movement-invention that it is hard to take everything in." – Anna Kisselgoff, New York Times
Diggity (1978) – 22 minutes
With set and costumes by Alex Katz and a commissioned score by Donald York, is one of Paul Taylor's most playful and bright dances. Surrounded by an obstacle course of two dozen metallic cutouts of canines, the dancers perform an impressive display of virtuosic movement with a warm spirit as only Taylor dancers can do.
"A mysteriously joyous… wonderful, crazy excursion into the unknown. Taylor has bestrewn the stage with wonderful Alex Katz profiles of dogs – mean, handsome, arrogant, underprivileged – that provide an obstacle course for Taylor's dancers…who swing their way through the obliquely simple choreography with an almost contemptuous élan." – Clive Barnes, New York Post
TICKETS
Tickets are $30 for adults, $24 for seniors 62+ and subscribers, $20 for youth 18 and under, $20 for Bucknell employees and retirees (limit 2), $10 for Bucknell students (limit 2) and $20 for non-Bucknell students (limit 2).
Tickets can be reserved by calling 570-577-1000 or online at Bucknell.edu/BoxOffice.

Tickets are also available in person from several locations including the Weis Center lobby (weekdays 10 a.m. to 4 p.m.) and the CAP Center Box Office, located on the ground floor of the Elaine Langone Center (weekdays 10 a.m. to 4 p.m.).

PLEASE NOTE

Bucknell's face covering requirements follow CDC guidelines, based on current rates of transmission of COVID-19 in Union County. When transmission rates are high, face coverings are required of everyone in all public and academic indoor campus spaces, including the Weis Center. Masks are not required indoors when transmission rates are low or medium. This guideline applies to all visitors regardless of vaccination status. Please always have a mask available when you are on campus. KN95s are recommended. To view Bucknell's current status, visit bucknell.edu/COVID-19.

For more information about this event, contact Lisa Leighton, marketing and outreach director, at 570-577-3727 or by e-mail at lisa.leighton@bucknell.edu.

For more information about the Weis Center for the Performing Arts, go to Bucknell.edu/WeisCenter or search for the Weis Center on Instagram, Facebook, Twitter or YouTube.