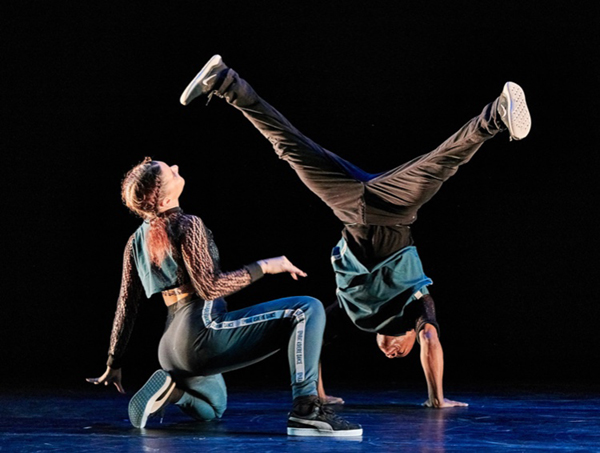 The Weis Center for the Performing Arts will present Ephrat Asherie Dance (EAD) and their new work, Odeon, on Saturday, Feb. 18 at 7:30 p.m. at the Weis Center.
The runtime for the performance is 55 minutes, without an intermission.
There will be a post-show Q&A with Ephrat Asherie from the stage. The talk will be facilitated by Bucknell student Isabelle Levesque-Du Bose.
The performance is sponsored, in part, by Service 1st Federal Credit Union.
ABOUT EPHRAT ASHERIE DANCE
Ephrat Asherie Dance (EAD) is a dance company rooted in African American and Latinx street and club dances. Dedicated to exploring the inherent complexities of these forms, EAD investigates the expansive narrative qualities of various social dances, including breaking, hip-hop, house and vogue, as a means to tell stories, develop innovative imagery and find new modes of expression.
EAD's first evening-length work, A Single Ride, earned two Bessie nominations in 2013 for Outstanding Emerging Choreographer and Outstanding Sound Design by Marty Beller.
The company has presented work at The Apollo Theater; the Celebrity Series of Boston; Columbia (Mo.) College; New York City's Dixon Place; Fira Tàrrega, Spain; Works & Process at the Guggenheim, New York; Jacob's Pillow dance festival, Becket, Mass.; the Joyce Theater, New York; La MaMa Experimental Theatre Club, New York; the River to River Festival, New York; Mass MoCA, North Adams, Mass.; New York Live Arts; SummerStage in Central Park, and The Yard, Chilmark, Mass., among others.
ABOUT EPHRAT ASHERIE
Ephrat "Bounce" Asherie is a New York City-based b-girl, dancer and choreographer and a 2016 Bessie Award Winner for Innovative Achievement in Dance. She has received numerous awards to support her work including Dance Magazine's inaugural Harkness Promise Award, the Jacob's Pillow Fellowship at the Tilles Center for the Performing Arts at LIU and a Jerome Foundation Travel and Study Grant. Last year, Asherie received a National Dance Project award to support the development and touring of her newest work, Odeon.
ABOUT THE WORK THEY WILL PRESENT
Odeon, an original dance work for six dancers and four musicians, is the second collaboration between sister and brother team Ephrat and Ehud Asherie (choreographer and musical director, respectively). Set to the music of fin-de-siècle Brazilian composer Ernesto Nazareth, known for mixing early 20th-century romantic music with samba and other popular Afro-Brazilian rhythms, this work takes a hybrid approach to movement. Odeon delves into what happens when you bring together parts of the extended family of street and club dances — breaking, hip-hop, house and vogue — and remix them and challenge them to inhabit unfamiliar spatial and choreographic contexts.
TICKETS
Tickets are $25 for adults, $20 for seniors 62+ and subscribers, $15 for youth 18 and under, $15 for Bucknell employees and retirees (limit 2), free for Bucknell students and $15 for non-Bucknell students (limit 2).
There is a special rate for local dance studios: Youth $5 and Accompanying parent/guardian $15. Use Coupon Code BOUNCE when checking out online, after selecting seats.
Tickets can be reserved by calling 570-577-1000 or online at Bucknell.edu/BoxOffice.

Tickets are also available in person from several locations including the Weis Center lobby (weekdays 10 a.m. to 4 p.m.) and the CAP Center Box Office, located on the ground floor of the Elaine Langone Center (weekdays 10 a.m. to 4 p.m.).
For more information about this event, contact Lisa Leighton, marketing and outreach director, at 570-577-3727 or by e-mail at lisa.leighton@bucknell.edu.

For more information about the Weis Center for the Performing Arts, go to Bucknell.edu/WeisCenter or search for the Weis Center on Instagram, Facebook, Twitter or YouTube.