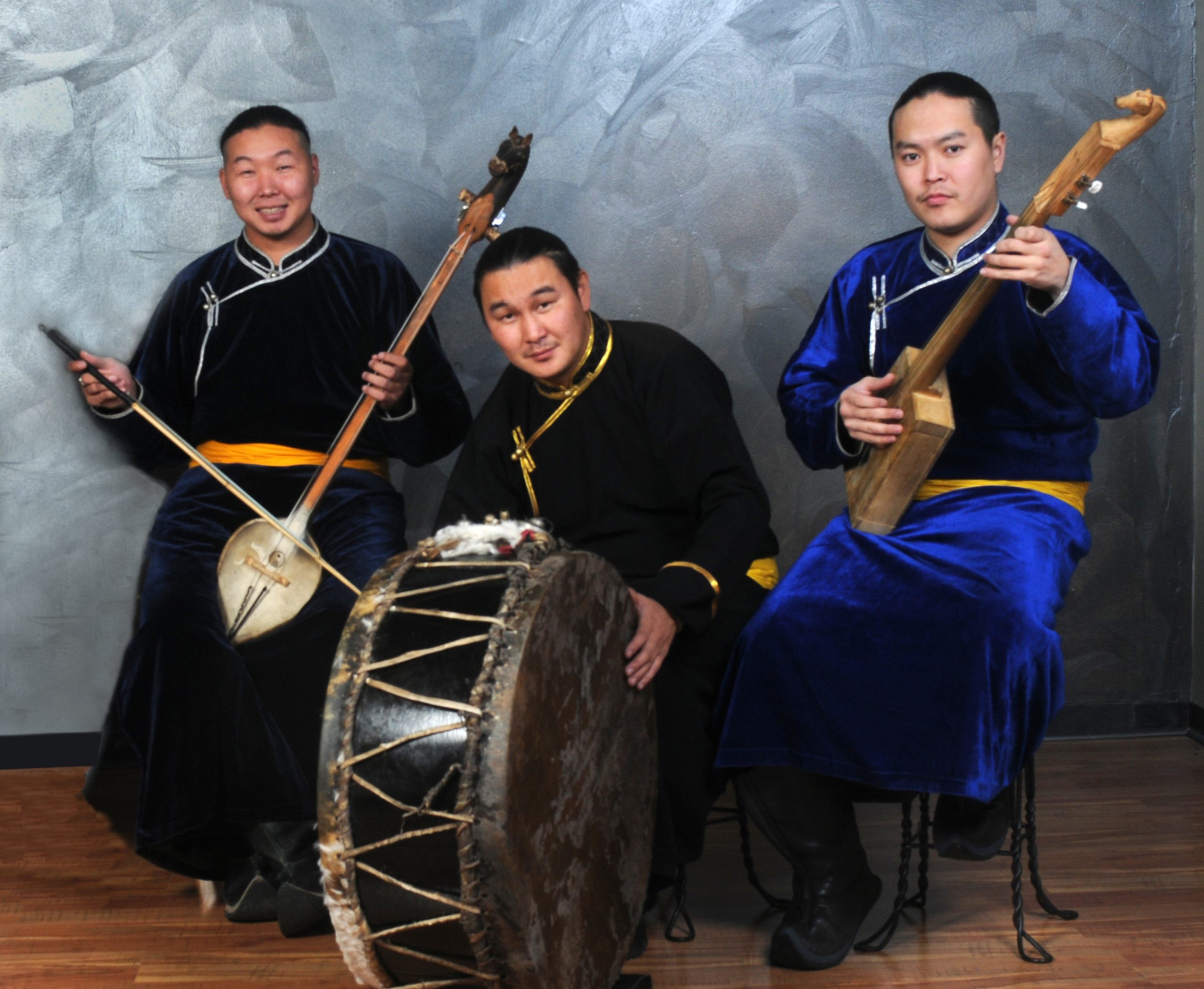 The Weis Center for the Performing Arts will present Alash on Wednesday, February 8 at 7:30 p.m. at the Campus Theatre in downtown Lewisburg.
There will be a free lecture, Q&A and demonstration with the artists on Tuesday, February 7 from 3-4:20 p.m. in the Weis Center Atrium, as part of Professor Mikkel Vad's Cross-Cultural Perspectives in Music class. This is open to the public.
Alash are masters of Tuvan throat singing (xöömei), a remarkable technique for singing multiple pitches at the same time. What distinguishes this gifted trio from earlier generations of Tuvan throat singers is the subtle infusion of modern influences into their traditional music. One can find complex harmonies, Western instruments and contemporary song forms in Alash's music, but its overall sound and spirit remain decidedly Tuvan.
Trained in traditional Tuvan music since childhood, the Alash musicians studied at Kyzyl Arts College just as Tuva was beginning to open up to the West. They formed a traditional ensemble and won multiple awards for traditional throat singing in international xöömei competitions, both as an ensemble and as individuals. At the same time, they paid close attention to new trends coming out of the West. They have borrowed new ideas that mesh well with the sound and feel of traditional Tuvan music, but they have never sacrificed the integrity of their own heritage in an effort to make their music more hip.
Alash first toured the United States under the sponsorship of the Open World Leadership program of the Library of Congress and the National Endowment for the Arts. Since then, they have returned many times to the delight of American audiences. TheWashington Post described their music as "utterly stunning," quipping that after the performance "audience members picked their jaws up off the floor."
TICKETS
Tickets are $20 for adults, $16 for seniors 62+ and subscribers, $10 for youth 18 and under, $10 for Bucknell employees and retirees (limit 2), free for Bucknell students (limit 2) and $10 for non-Bucknell students (limit 2).
Tickets can be reserved by calling 570-577-1000 or online at Bucknell.edu/BoxOffice.

Tickets are also available in person from several locations including the Weis Center lobby (weekdays 10 a.m. to 4 p.m.) and the CAP Center Box Office, located on the ground floor of the Elaine Langone Center (weekdays 10 a.m. to 4 p.m.).
MORE ABOUT TUVA & THIS ART FORM
The tiny Republic of Tuva is a giant when it comes to mastery of the human voice. The ancient tradition of throat singing (xöömei in Tuvan) developed among the nomadic herdsmen of Central Asia, people who lived in yurts, rode horses, raised yaks, sheep and camels, and had a close spiritual relationship with nature.
Where is Tuva?
Tuva (sometimes spelled Tyva) sits at the southern edge of Siberia, with Mongolia to its south. Over the centuries, Tuva has been part of Chinese and Mongolian empires, and shares many cultural ties with Mongolia. Early in the 20th century it came under Russian influence, and in 1944 it became part of the Soviet Union. Tuva is now a member of the Russian Federation.
A Unique Concept of Sound
Tuvan way of making music is based on appreciation of complex sounds with multiple layers. Whereas the western cellist aims to produce a focused, pure tone, the Tuvan igil player enjoys breaking the tone into a spray of sounds and textures. Absolute pitch is less important than richness of texture. Multiple sonorities are heard together as an inseparable whole. This idea may be illustrated by an anecdote about a respected Tuvan musician who was demonstrating the igil, a bowed instrument with two strings tuned a fifth apart. When asked to play each string separately, he refused, saying it wouldn't make any sense. The only meaningful sound was the combination of the two pitches played together.
Tuvan Throat Singing
Despite what the term might suggest, throat singing does not strain the singer's throat. The singer starts by singing a low drone pitch. Then, by subtle manipulations of his vocal tract and keen listening, he suppresses some overtones and amplifies others, allowing the amplified overtones to be heard as distinct pitches while the drone pitch continues at lower volume. The Tuvan listener enjoys the entire array of pitches, hums and buzzes as aspects of one sound, like facets of a diamond. To listen in this way, a newcomer to throat singing is advised not to focus on the highest pitch (which is the most prominent and often produces a little melody), but rather to listen to the low drone, then bring the middle into focus, then appreciate the entire surrounding sound.
Do Women Throat Sing?
Throat singing is most commonly done by men. Although custom and superstition have discouraged women from throat singing, recently this taboo is breaking down, and there are now excellent female throat singers too.
Cowboys of the East
In Tuvan songs, the rich textures of xöömei often alternate with a simpler melodic use of the voice. Rhythms frequently simulate the loping gait of a horse. Tuvans are great admirers of horses, and their songs are as likely to extol the virtues of fast horses as they are to express love for beautiful women. At the end of a song, musicians often exclaim "Shu-de!" which may be translated as "giddy-up" or "let's go!" Just as western cowboys play guitar or banjo, Tuvan cowboys often accompany themselves with stringed instruments, either plucked or bowed. The instruments are traditionally decorated with carved horses' heads.
For more information about this event, contact Lisa Leighton, marketing and outreach director, at 570-577-3727 or by e-mail at lisa.leighton@bucknell.edu.

For more information about the Weis Center for the Performing Arts, go to Bucknell.edu/WeisCenter or search for the Weis Center on Instagram, Facebook, Twitter or YouTube.