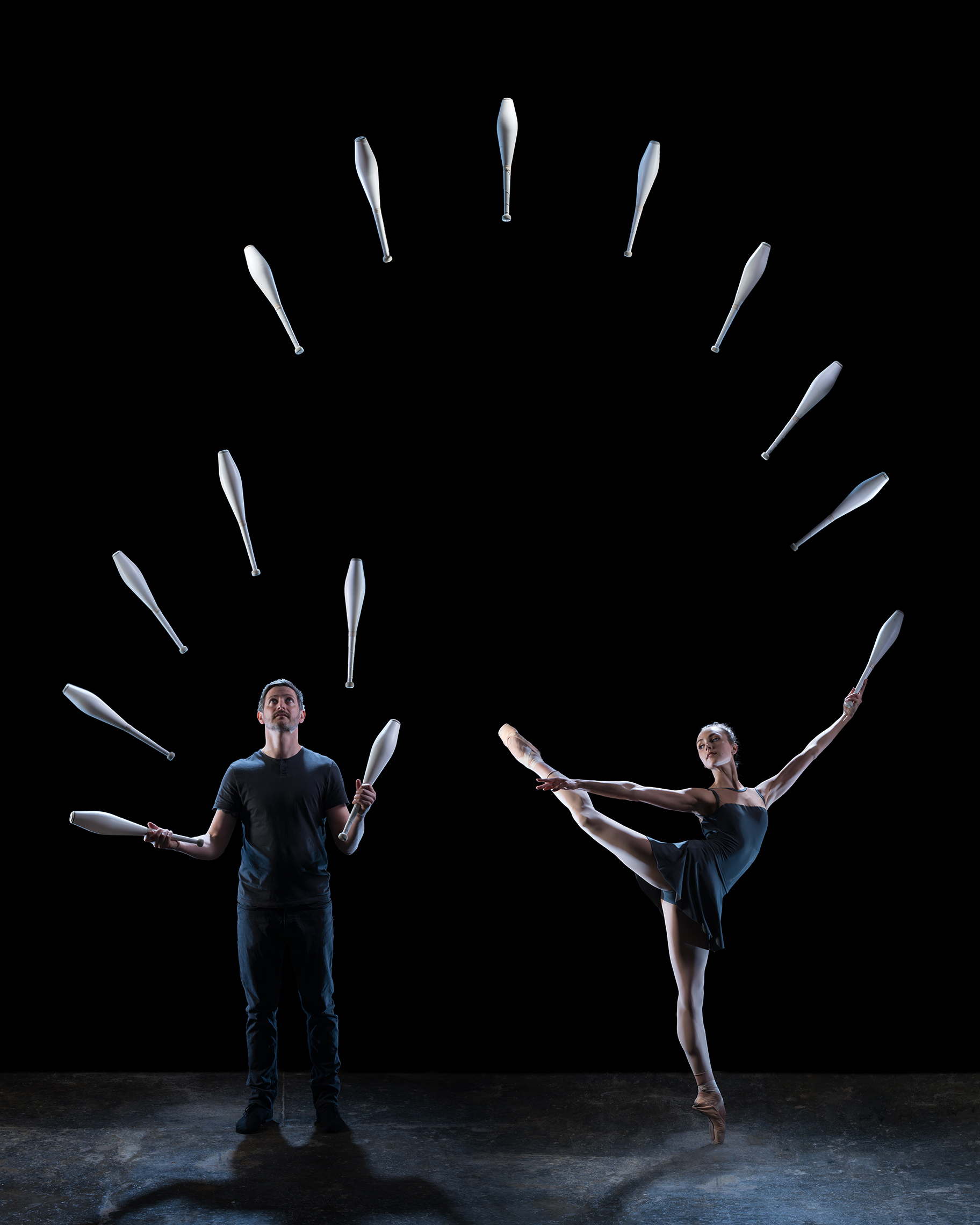 In a unique contemporary cirque event that combines ballet and juggling, Gandini Juggling will present 4 x 4 Ephemeral Architectures on Thursday, November 2 at 7:30 p.m. at the Weis Center for the Performing Arts.
The Family Discovery performance is suggested for ages 8 and older and is 65 minutes without an intermission. It is sponsored, in part, by the Susquehanna River Valley Visitors Bureau and Geisinger.
There will be a free pre-performance talk the same day as the performance at 1 p.m. in the Weis Center Atrium Lobby.
Gandini Juggling is at the vanguard of contemporary circus, reinventing and reinvigorating juggling for the 21st century. In 4 x 4 Ephemeral Architectures, four jugglers and four ballet dancers share a stage for the first time, tracing pathways in space. These formalized systems are ephemeral journeys through time and space, leaving an unseen trace, describing an imaginary architecture. The show 4 x 4 Ephemeral Architectures is a celebration of the intersection of these paths. This piece is a return to the Gandinis' love affair with pure patterns and mathematics, and their roots in imagining juggling as a form of dance.
Formed in 1992 by world-renowned jugglers Sean Gandini and Kati Ylä-Hokkala, Gandini Juggling celebrates juggling in all its facets, exploring not just what juggling is, but what juggling can be.
Since their inception the Gandinis have performed over 5,000 shows in 50 countries and they continue to perform at prestigious festivals and venues throughout the world. The Gandinis' journeys have always been countercurrent, an individual voice in the global circus scene, with quotidian risk-taking and fearless upturns. 30 productions and 23 years later, Gandini Juggling are creating some of vibrant and challenging performance pieces.
"These two diverse art forms may seem like curious bedfellows however the year we have spent with them has convinced us otherwise. It seems to us that they are old friends, or that somewhere in a distant imaginary past they came from the same branch of mathematics. Then there has been the pleasure of discovering Ludovic Ondiviela's universe. I confess that he has pushed the piece to have more of a narrative subtext than I would have expected and I am delighted. Nimrod Borenstein's 'Suspended opus 69' has also tinted and molded the piece with unexpected and perplexing colors. It is a universe that we have only started to understand and one that we hope to explore in more depth in the future. Guy Hoare shares our passion for geometry and architecture and we very quickly found we spoke similar languages," says Sean Gandini.
Tickets for the performance are $25 for adults, $20 for seniors 62+, $15 for youth 18 and under, $15 for Bucknell employees and retirees (limit 2), $10 for Bucknell students (limit 2), and $15 for non-Bucknell college students (limit 2). Tickets can be purchased online at Bucknell.edu/BoxOffice or by calling 570-577-1000.
Please note that tickets are available in the main auditorium only; the balcony will be closed.
Tickets are also available in person from several locations including the Weis Center lobby (weekdays 10 a.m. to 4 p.m.) and the CAP Center Box Office, located on the ground floor of the Elaine Langone Center (weekdays 10 a.m. to 4 p.m.).
For more information about this performance contact Lisa Leighton, marketing and outreach director, at 570-577-3727 or by e-mail at lisa.leighton@bucknell.edu.
The next performance in the Weis Center's 2017-18 Season is a Contemporary classical performance by A Far Cry Orchestra: The Blue Hour on Thursday, November 9 at 7:30 p.m. at the Weis Center.
For more information about the Weis Center for the Performing Arts, go to Bucknell.edu/WeisCenter or search for the Weis Center on Instagram, Facebook, Twitter or YouTube.