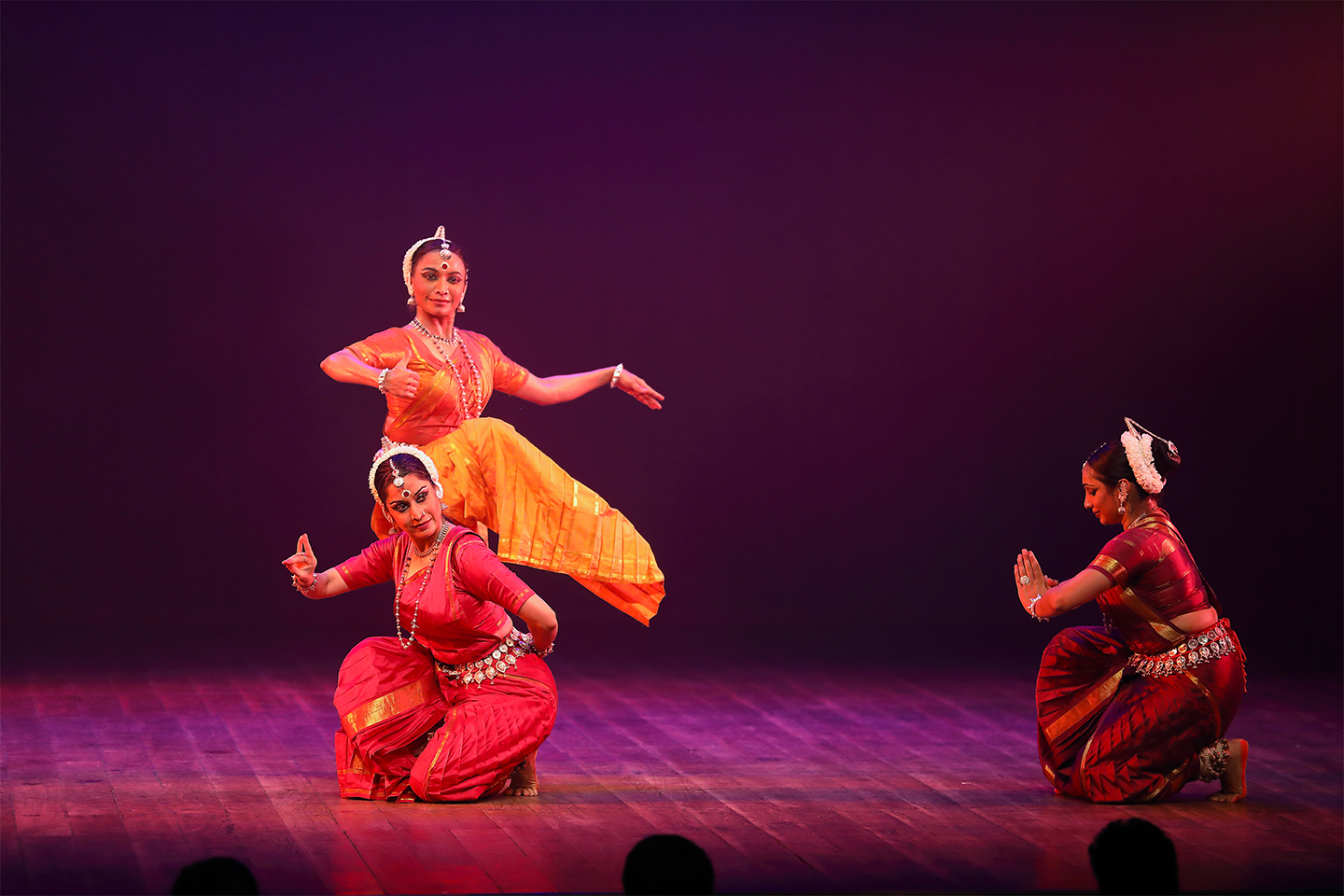 Nrityagram Dance Ensemble will bring Indian classical dance to the stage on Thursday, October 18 at 7:30 p.m. at the Weis Center. There will be a free pre-performance talk with the artists on Tuesday, October 16 at 1 p.m. in the Weis Center Atrium.
The performance is sponsored, in part, by Centre Daily Times.
One of the premiere Indian classical dance ensembles performing today, Nrityagram had the unprecedented distinction of making The New York Times' "Best Dance of the Year" list in 2015 and 2016.
More than a dance company, Nrityagram was founded as a village devoted to Odissi dance. The all-female ensemble's daily life of intensive training and meditation brings to the stage compelling performances that are at once sensual and lyrical.
In 2018-19, the company returns to the United States with special guest artists from Sri Lanka's Chitrasena Dance Company for a tour of their critically acclaimed collaborative work, Saṃhāra.
The Saṃhāra project brings together two dance traditions, Odissi from India and Kandyan dance from Sri Lanka, both of which began in temples as ritual performance.
The idea of a cross-cultural collaboration sprang from a study of the Natya Shastra, an Indian treatise on the performing arts that encompasses theatre, dance and music, which was written between 200 BCE and 200 CE. Sometimes referred to as the fifth Veda, the Natya Shastra is said to belong to Jambudwipa and ancient Puranic geography tells us that Jambudwipa refers to Eurasia. With this sacred geography the cultural unity of the whole region was a compelling idea.
Working from the premise that the Natya Shastra is the root of all dance traditions in Jambudwipa, the two ensembles began with finding a vocabulary of dance using the performance practice of India and Sri Lanka.
ABOUT NRITYAGRAM
Nrityagram (which means dance village) is located outside Bangalore, India. It was founded in 1990 by Odissi dancer Protima Gauri, who converted ten acres of farmland into a setting for the study, practice and teaching of dance.
Nrityagram is India's first modern Gurukula, the realization of founder Protima Gauri's dream of reviving this ancient model of living and learning.
Nrityagram is dedicated to creating excellence through the traditional method of learning, the Guru-Shishya Parampara, referred to as mentorship in modern times. Nrityagram is a center of learning where dancers from all over the world live, in an atmosphere that nurtures artistic exploration and development. Learning is a way of life, and students have a rare opportunity to imbibe the spirit of the Gurus by living with them and observing their creative endeavors.
With over 200 students, Nrityagram fosters the artistic, intellectual and personal growth of the dancers and prepares them for successful and productive lives as artists and citizens, as well as to become leaders in their professions.
The aim is to prepare dancers for careers that combine performance with teaching, community outreach, and leadership. To enrich their practice, dancers are taught yoga, meditation, and martial arts along with Sanskrit and ancient dance scriptures. Choreographers, musicians, writers, and theatre practitioners from all over the world visit, to perform and conduct workshops and seminars in their area of practice.
Nrityagram has presented six full-length Ensemble shows, which are Śrī: In Search of the Goddess (2000), Ansh (2004), Sacred Space (2006), Pratimā: Reflection (2008), Saṃhāra (2012) and Śriyaḥ (2016) and two full-length Duet shows, Saṃyoga (2012) and Songs of Love and Longing (2013). All choreographed by Surupa Sen.
Tickets for the performance are $25 for adults, $20 for seniors 62+, $15 for youth 18 and under, $15 for Bucknell employees and retirees (limit 2), $10 for Bucknell students (limit 2), and $15 for non-Bucknell college students (limit 2).
Tickets can be purchased online at Bucknell.edu/BoxOffice or by calling 570-577-1000.
Tickets are also available in person from several locations including the Weis Center lobby (weekdays 10 a.m. to 4 p.m.) and the CAP Center Box Office, located on the ground floor of the Elaine Langone Center (weekdays 10 a.m. to 4 p.m.).
For more information about this event, contact Lisa Leighton, marketing and outreach director, at 570-577-3727 or by e-mail at lisa.leighton@bucknell.edu.
For more information about the Weis Center for the Performing Arts, go to Bucknell.edu/WeisCenter or search for the Weis Center on Instagram, Facebook, Twitter or YouTube.